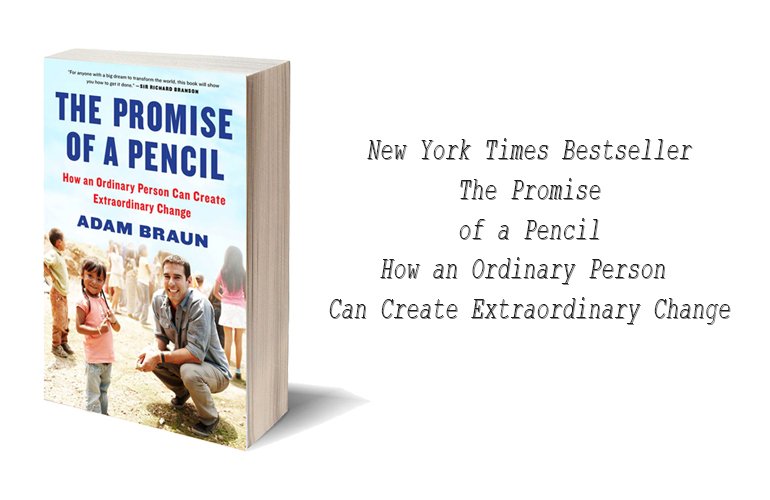 Ihana ja koskettava Adam Braun on The Promise of a Pencil perustaja, joka rakentaa köyhien maiden lapsille kouluja ja mahdollistaa opetusta niille, joilla ei siihen omasta takaa ole mahdollisuutta. Adamin tarina on todella koskettava. Kirjaa lukiessa samaan aikaan itkin ja nauroin. Tällä miehellä on sydän todella paikallaan ja hän on tehnyt niin upeaa työtä, että kirjan arvostelu tuntuu todella vaikealta, koska en oikein meinaa löytää sanoja.
The Pencil Of Promise on kirja, jonka jokaisen tulisi lukea. Se herättää todella paljon tunteita ja inspiroi myös itseään tekemään työtä jolla on tarkoitus. Adam on luonut todella huikean liiketoimintamallin, jota ei voi kuin ihailla.
Suosittelen kuuntelemaan Adamin haastattelun Marie Forleon youtube kanavalta. Löydät sen täältä. Pencils of Promise nettisivut löytyvät täältä.
Kun olet lukenut Pencil of Promise kirjan jaathan tietoa siitä myös ystävillesi. Laita hyvä kiertämään!
Promise a pencil is a great story about a guy called Adam who helps people in developing countries. I truly recommend this book! After you have read the the book by yourself please give it to your friend. Let´s make the goodness go around! :)
"738,872 Believe in PoP's Mission of Education for All. Do you? 
We believe that every child has the basic right to education. Join us by adding your voice so we can help create a future where every child can go to school."